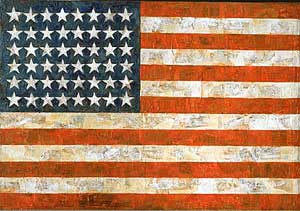 About this site: Launched in October 2001, this warlog's purpose is to demonstrate the folly of the War On Terror by taking articles only from wire feeds and mainstream news organizations, including FOX.
Got feedback? Send me a note. See sample feedback.
ARCHIVE
March 2003
February 2003
January 2003
December 2002
November 2002
Late October 2002
Early October 2002
September 2002
August 2002
July 2002
June 2002
May 2002
April 2002
March 2002
February 2002
January 2002
December 2001
November 2001
October 2001

DECEMBER 2002
The Untold War: A Long Year in Afghanistan 12/31
American combat units, meanwhile, are harassed almost daily by haphazard rocket fire and hit-and-run attacks. Taliban and al-Qaida fighters enjoy freedom of movement in the lawless tribal highlands of Pakistan, aided by sympathizers in Afghanistan's rugged eastern border regions. Though several top al-Qaida leaders have been killed or captured, Osama bin Laden and Taliban leader Mullah Muhammed Omar are still at large.

Like U.S. troops in Vietnam, American soldiers here find it difficult to distinguish ordinary villagers from enemy operatives. Lt. Col. Martin Schweitzer, a battalion commander in eastern Afghanistan, says the enemy hides among civilians and spies on American troop movements and methods from villages across the border in Pakistan.
Anti-US strike shakes Yemen 12/31
An attack in Yemen that killed three American aid workers is being seen as the start of a backlash against Yemeni cooperation with the US "war on terror."
Like, Duh.
Bush 'exploiting War on Terror' 12/31
The document also bears out the strategic strength of Mr Bush's position regarding the War on Terror. In defining a war that is unwinnable, certainly by 2004, Mr Bush will be able to ask Americans to allow him to continue the fight while warning that his ejection from office would mark a victory for the terrorists.
Pentagon build-up reaches unstoppable momentum 12/31
The Pentagon's order to deploy large numbers of combat troops, warplanes and a hospital ship in the Gulf have created a near unstoppable momentum towards war with Iraq, US military analysts said yesterday.
'1m refugees' will flee Iraq war 12/31
Aid agencies have warned that one million refugees could flee Iraq if Britain and America do not pull back from war.
Marines prepare for war: not 'if' but 'when' 12/31
"We have to assume that it is not a matter of if, but of when we have to fight," said Colonel Bennett Saylor, chief of staff of the 1st Marine Division, the largest combat force on the base. "We look at the holidays as our last week of peace."
That'll Get 'Em!
US begins psychological operation in Iraq 12/31
"Soldiers of Iraq. Since the beginning of time, there has been no profession more honorable than that of a soldier. Saddam has tarnished this legacy. Saddam uses the soldiers of Iraq ... as his own personal bodyguards. Do not let Saddam tarnish the reputation of soldiers any longer. Saddam uses the military to persecute those who don't agree with his unjust agenda. Make the decision."
A question of casualties in Iraq 12/31
... as some military leaders have privately cautioned in recent days, a fight to the death with Saddam Hussein in Iraq could reap a grim harvest in dead and wounded in terms of American military personnel and Iraqi civilians in whose midst Hussein might make his last stand.
Budget Director Lowers Estimate of Cost of a War 12/31
The administration's top budget official estimated today that the cost of a war with Iraq could be in the range of $50 billion to $60 billion, a figure that is well below earlier estimates from White House officials.
December 23
This site is taking a few days off. Two quick things before the break:

1. If you're looking for a last-minute Christmas gift for that subversive relative who has everything, may I suggest a bumper sticker:



2. Forbes has just named Northrop Grumman its Company of the Year. Get in on the PWP before the war!

MUST READ: CS Monitor On DU Weapons
A 'silver bullet's' toxic legacy 12/20
DU is made from nuclear-waste material left over from making nuclear weapons and fuel. American gunners used 320 tons of it in 1991 to destroy 4,000 Iraqi armored vehicles and swiftly conclude victory.

But the invisible particles created when those bullets struck and burned are still "hot." They make Geiger counters sing, and they stick to the tanks, contaminating the soil and blowing in the desert wind, as they will for the 4.5 billion years it will take the DU to lose just half its radioactivity.
Pentagon spokesmen said yesterday that US troops are being given no new DU protection training for any Iraq campaign. In the mid-1990s, US troops were required to wear full protective suits and masks within 50 yards of a tank struck with DU bullets. Those rules, based on Nuclear Regulatory Commission safety guidelines, were dramatically revised in the late 1990s.
LA Times: War Unavoidable
War Appears Increasingly Unavoidable 12/20
... with the first assessment from chief weapons Inspector Hans Blix, the United Nations passed a crucial turning point Thursday in the drama that began with a tough U.N. resolution in November. There is a growing sentiment even among Hussein's traditional allies at the U.N. Security Council and doves in the Bush administration that, barring a political upheaval in Baghdad that preempts it, a U.S.-led military campaign appears increasingly unavoidable.
Washington Post: War Not Certain
Despite Countdown, War Isn't Certain 12/20
The Bush administration's declaration that Baghdad is in material breach of United Nations disarmament resolutions sets in motion the countdown for a war with Iraq -- but that does not mean that war is inevitable.
January 27 is decision day for war against Iraq 12/20
America last night invoked the trigger phrase for war on Iraq, accusing Baghdad of being in "material breach" of its UN obligations to fully disclose its weapons arsenal.
Rapid Buildup in Gulf on Horizon 12/20
The U.S. military is poised to begin a rapid and visible buildup of forces in the Persian Gulf early next month involving 50,000 combat troops, aircraft, armor and tens of thousands of reservists, senior defense officials said.
UN wants Western intelligence on Iraq 12/20
"The most important thing governments like the UK or the US could give us would be to tell us sites where they are convinced [the Iraqis] keep some weapons of mass destruction."
1 dead in Kabul peacekeepers attack 12/20
An Afghan man has been killed and three people including two French aid workers wounded in an explosion that military police said was an attack on international troops.
OFF TOPIC:
Bush Administration to Propose System for Monitoring Internet 12/20
The Bush administration is planning to propose requiring Internet service providers to help build a centralized system to enable broad monitoring of the Internet and, potentially, surveillance of its users.
Powell's journey from diplomat to warrior 12/20
The man credited with preventing the United States from embarking on unilateral action in a war against Iraq appears to have completed his transformation from White House dove to born-again warrior.

Following Washington's first detailed appraisal of Iraq's weapons declaration, the US Secretary of State, Colin Powell, seems to have enlisted in the hardline camp.
War on Saddam could be boost for al-Qa'eda, MPs warn 12/20
A war with Iraq could destabilise the Islamic world and boost recruitment to al-Qa'eda and other terrorist groups, according to an influential committee of MPs.
Britain: Iraq Report Not Grounds for War 12/19
Gaps in Iraq's weapons declaration are not in themselves grounds for war, British Foreign Secretary Jack Straw said Thursday, despite his assessment that the document was an "obvious falsehood."
US begins the endgame on Iraq 12/19
The US plans to declare that Iraq's weapons dossier is incomplete, pushing the UN toward decision.
US military chiefs break ranks to say war 'will be bloody' 12/19
Marine Corps and Army generals distance themselves from Pentagon as inspections chief prepares to brief UN
Pentagon Detects Iraqi Troop Movement 12/19
Hundreds of soldiers are involved. Meanwhile, some predict Hussein will target his own oil fields and food supplies and then blame the U.S.
Boycott mars key Iraq meeting 12/19
Syria has said that it will not attend the United Nations' Security Council session scheduled to discuss Iraq's weapons declaration.

The boycott is intended as a protest against receiving an incomplete copy of the text of Iraq's weapons documents, a spokesman from Syria's foreign ministry said.
U.S. Sets Late January Decision on Iraq War 12/19
The Bush administration has set the last week in January as the make-or-break point in the long standoff with Iraq, and is increasingly confident that by then it will have marshaled the evidence to convince the U.N. Security Council that Iraq is in violation of a U.N. resolution passed last month and to call for the use of force, officials said yesterday.
Iraq's Shortage of Medicine May Grow More Severe 12/19
... doctors at the Saddam Teaching Hospital for Pediatrics here use gentamicin to treat urinary tract infections, doxycycline to help those with cholera or diarrhea, and streptomycin in cases of tuberculosis. All three would be added to the list of restricted items if the U.N. Security Council agrees to the U.S. proposal.
Failure of the 82nd airborne 12/19
As the US prepares for war on Iraq, its troops in Afghanistan are coming under increasing attack from the forces they were sent to dig out
Group Says U.S. Broke Law in Use Of Cluster Bombs in Afghanistan 12/19
The U.S. military violated international law in Afghanistan by indiscriminately dropping cluster bombs on populated areas, killing at least 25 civilians and injuring numerous others, Human Rights Watch said in a report scheduled for release today.
David Rees finally has a t-shirt available, but the one I made 14 months ago kicks its ass: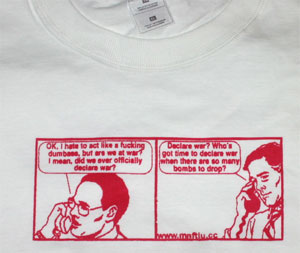 OFF TOPIC: A Victory for Sanity
U.S. is overridden on UN social plan 12/18
Faced with a deadlock, the conference took a vote - highly unusual at United Nations conferences - on two key chapters of the plan. The United States lost the first vote, 31 to 1, with two abstentions, and the second, 32 to 1, with two abstentions.
United States support for population programs is important for the region. Earlier this month, the Bush administration blocked $34 million appropriated by Congress for the United Nations Population Fund.
Reported Here Last Week as "Pissing Into the Wind"
Egypt is skeptical about U.S. program to foster democracy 12/18
When Secretary of State Colin Powell presented a new program last week to build democratic institutions and fight poverty in Arab countries with $29 million in fresh annual aid, the reaction from Egypt was about as welcoming as a hot gust of wind in the desert.
Why We Must Bomb Iraq
U.N.: Al-Qaeda's Afghan camps operating again 12/18
Al-Qaeda training camps have recently been reactivated in Afghanistan, and new volunteers are making their way into these camps, a U.N. report said Tuesday.
Leaked report says German and US firms supplied arms to Saddam 12/18
Iraq's 11,000-page report to the UN Security Council lists 150 foreign companies, including some from America, Britain, Germany and France, that supported Saddam Hussein's weapons of mass destruction programme, a German newspaper said yesterday.
Most Favor Nuclear Option Against Iraq 12/18
...the new survey also found that 58 percent of those interviewed would like to see President Bush present more evidence explaining why the United States should use military force to topple the Iraqi leader, up from 50 percent in September. And while most Americans view Iraq as a major threat, fewer than half said it poses an immediate danger to this country.

That finding and others suggest that Bush may be moving faster toward war than the public would prefer. At the time Americans are becoming more certain that war will break out, the survey found they also are growing more wary of the president and his motives for pressing to move quickly with military force against Iraq.
Rummy vs. the Generals
Projection on Fall Of Hussein Disputed 12/18
With war possible soon in Iraq, the chiefs of the two U.S. ground forces are challenging the belief of some senior Pentagon civilians that Iraqi President Saddam Hussein will fall almost immediately upon being attacked and are calling for more attention to planning for worst-case scenarios, Defense Department officials said.
US planes target Iraq with broadcasts 12/18
The US has stepped up psychological operations against President Saddam Hussein with the start of radio broadcasts targeted at military commanders as well as civilians.

The broadcasts are being transmitted by US planes flying over Iraq. They urge Iraqis to reject their president, accusing him of diverting revenue from oil sales to purchase arms instead of food.
Iraq lays barriers to a U.S. invasion 12/18
Iraqi military forces have begun placing obstacles on the runways of their key air bases, the most overt steps yet by Baghdad to prepare for a possible U.S. invasion, according to U.S. defense and intelligence officials.
Iraq deployment under way as MoD charters troop ships for Gulf 12/18
The first preparations for a major British deployment for war against Iraq were revealed yesterday as defence officials disclosed that ships were being chartered to carry troops and heavy armour to the Gulf.
Iraqi Opposition Still Plagued by Rivalries 12/18
Iraqi opposition groups seeking to form a common front failed on Tuesday to overcome their rivalries, with some walking out of a meeting warning of possible civil war if they were sidelined in any new government.
Arms threats now on three fronts 12/18
As the US readies a reply to Iraq's weapons report, concern also shifts to growing nuclear threats in Iran and North Korea.
Afghan parents blame Special Forces for children's deaths 12/18
Furious parents of Afghan children killed by a stray mortar fired during a U.S. military training drill accused Special Forces troops Tuesday of ignoring their desperate pleas and letting their sons bleed to death.
'War on Terror' Infringing Human Rights, UNHCR Says 12/18
The U.N.'s human rights chief said Tuesday that the U.S.-led "war on terror" was hurting human rights and exacerbating prejudices around the world.
Turkey Shoot on the "Highway of Death" from Peter Turnley's The Unseen Gulf War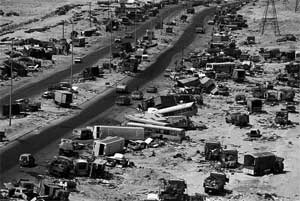 This past war and any one looming, have often been treated as something akin to a 'Nintendo game'. This view conveniently obscures the vivid and often grotesque realities apparent to those directly involved in war. As a witness to the results of this past Gulf War, this televised, aerial, and technological version of the conflict is not what I saw and I'd like to present some images that I made that represent a more complete picture of what this conflict looked like.
Most Unconvinced on Iraq War 12/17
Despite a concerted effort by the Bush administration, more than two-thirds of Americans believe the president has failed to make the case that a war with Iraq is justified, according to a Los Angeles Times poll.
The poll also found that support for a possible war appears to be weakening, with 58% saying they support a ground attack on Iraq. In an August Times poll, 64% said they would support a ground attack. Last January, after President Bush first denounced Saddam Hussein in his State of the Union address, the Times and other polls found support for military action greater than 70%.
US doubts over Iraqi weapons declaration bring war closer 12/17
THE Bush Administration gave its first indication yesterday that last week's Iraqi weapons declaration was insufficient and that war was becoming unavoidable. Colin Powell, the Secretary of State, said that there were "problems" with the 12,000-page dossier, which was delivered to United Nations officials on December 7.
Britain finds big gaps in Iraq's arms dossier 12/17
London: Officials analysing Iraq's 12,000-page weapons declaration are "very disappointed" at its contents, saying it has big gaps that may cost Iraq the chance to avoid war.
U.S.: Iraq missiles violate sanctions 12/17
U.S. intelligence sources told NBC on Monday that Iraq has deployed surface-to-surface ballistic missiles with a range that violates U.N. sanctions.
Britain Denies Iraq War Build-Up Under Way 12/17
Britain said on Tuesday that diplomatic efforts were still being pursued on Iraq and denied reports it was asking defense firms to speed up production of military equipment in readiness for war.
US begins stockpiling military equipment in Northern Iraq 12/17
Fifty long vehicles loads of US military equipment that was landed at the Incirlik airbase in southern Turkey has already been transferred to northern Iraq, a location cited as a possible conflict point should the US administration hit Iraq according to reports.
Few but proud: US antiwar activists in Iraq 12/17
If American bombs are going to fall on Baghdad, American peace activist Cynthia Banas intends to be alongside Iraqis in the target zone.
White House Plays Down Propaganda by Military 12/17
The White House today distanced itself from a secret Pentagon directive that would authorize the military to carry out covert operations to influence public opinion and policy makers in friendly and neutral countries.

The White House spokesman, Ari Fleischer, acknowledged that there was widespread recognition throughout the Bush administration that the United States had to work harder "in better communicating America's message of hope and opportunity."
Debunking the bin Laden tape 12/17 (via Unknown News)
"The more I work on this, the more I'm confident that it's not him," says Hervé Bourlard, director of the Dalle Molle Institute for Perceptual Artificial Intelligence, one of the world's leading voice-recognition institutes.
Afghan Women Are Still Policed 12/17
Women caught talking with men on the streets of Herat, a major city in western Afghanistan, risk being seized by special morals police, taken to a hospital and forced to undergo an exam to determine if they have had sex, according to a report issued today by Human Rights Watch.
OFF TOPIC: Completely Whacked
U.S. presses fight on abortion at UN family planning talks 12/16
Taking its fight against abortion overseas, the Bush administration has opened a sharp debate over a landmark family-planning agreement at a United Nations conference, angering several of its allies, European and Asian diplomats said.
Iran and North Korea draw Bush's attention away from Iraq 12/16
President George W. Bush's diplomatic strategy for December was hardly a mystery: Focus attention on a unique threat posed by Iraq, one that could be neutralized only by disarming the country and deposing Saddam Hussein.

But last week the two other members of the "axis of evil," North Korea and Iran, suddenly created nuclear-sized distractions, raising a question the White House wants to glide past: Is the threat from Iraq the most imminent threat to America and the world?
Saddam gets ready for long, tough fight 12/16
President Saddam Hussein of Iraq has adopted a two-pronged strategy in his showdown with the United States, according to U.S. experts. He wants to delay war as long as possible. If that fails, he is preparing his people for a brutal and protracted conflict that would give him hero status in the Muslim world.
US cash squads 'buy' Iraqi tribes 12/16
Dozens of teams of elite American soldiers and intelligence specialists have been sent into Iraq with millions of dollars in cash to woo key tribal leaders away from Saddam Hussein.
Why the dossier was whisked away (via Cursor)
Source: List Includes U.S. Firms That Aided Iraqis 12/16
Iraq's 12,000-page declaration of its weapons programs lists American companies that provided materials used by Baghdad to develop chemical and biological weapons in the 1980s, according to a senior Iraqi official.

The public release of such a list could prove embarrassing for the United States and highlight the extent to which the Reagan and first Bush administrations supported Iraq in its eight-year war with neighboring Iran in the 1980s. U.S. military and financial assistance to Iraq continued until Iraqi President Saddam Hussein invaded Kuwait in August 1990.
U.S. Seeks to Trip Up Iraq 12/16
The Bush administration wants to identify a few "clear winners" that will either find hidden weapons of mass destruction, produce proof that they still exist elsewhere or lead to a confrontation because Iraqi President Saddam Hussein balks at full compliance, the sources said.
Add 'Em to the Axis
U.S. Says Russia Helped Iran in Nuclear Arms Effort 12/16
American intelligence and defense officials have concluded that Russia — one of the Bush administration's most important allies in the campaign against terrorism — supplied Iran with much of the equipment and expertise it used to build two new facilities that appear to American intelligence agencies to be part of a nuclear weapons program.

The case is the latest example of the Bush administration's growing difficulties with nations that it has hailed as allies in its efforts against Al Qaeda and other terrorist groups.
Pentagon Debates Propaganda Push in Allied Nations 12/16
The Defense Department is considering issuing a secret directive to the American military to conduct covert operations aimed at influencing public opinion and policy makers in friendly and neutral countries, senior Pentagon and administration officials say.
Anti-Saddam groups start power struggle 12/16
Iraqi opposition groups jockeyed for position yesterday as they fought over who should be part of a "co-ordinating" committee that could form the embryo of a future government after the downfall of Saddam Hussein.
Bush 'approves terrorist hit list' 12/16
US President George W Bush has authorised the Central Intelligence Agency (CIA) to kill about a dozen terrorist leaders named on a secret list prepared by the White House, US media has reported.
Pakistan Foils Plot Vs. U.S. Diplomats 12/16
In a foiled suicide bomb plot, Islamic militants planned to ram an explosives-laden Volkswagen into a car carrying U.S. diplomats in Karachi, Pakistan police said Sunday.
Pissing Into the Wind
Powell unveils plan to ease anti-Americanism among Arabs 12/13
The initiative flows from U.S. analyses, undertaken after the Sept. 11 attacks, of the causes of anti-U.S. feeling in parts of the Arab world. It is meant to lessen concern in the Arab world about U.S. intentions as it continues a military build-up around Iraq.

But Powell announced no change in the fundamental policies cited by many Arabs as underlying their resentment: the Israeli-Palestinian conflict, U.S. pressure on Iraq and other countries said to support terrorism, and curbs on Arab travel and stays in the United States.
Powell's Underling, Richard Haass, Provides a Good Laugh
Powell unveils plan to reform 'autocratic' Middle East 12/13
He (Richard Haass) indicated that ageing autocratic leaders of US allies in the region could not rely on Washington for ever: "The US will support the democratic process, even if it produces policies not to our liking." But he acknowledged that "unrestrained zeal" on the part of the US could "make matters worse rather than better". America had to show humility, and "follow the precept of the Hippocratic oath: first do no harm," he said.
See Also:
U.S. Delay on Proposal for Mideast Irks Allies 12/13
The Bush administration, deepening a rift with its allies on Middle East policy, has rebuffed appeals from President Jacques Chirac and other Europeans to adopt a plan next week establishing a Palestinian state in three years, administration officials said today.
An Enigmatic Foreign Policy 12/13
Earlier this week, the Bush administration formally unveiled a new strategy to fight the spread of weapons of mass destruction, stressing the importance of preemption and interdiction. Almost immediately, however, events conspired to demonstrate the gap between rhetoric and practice.
U.S. has photos of secret Iran nuclear sites 12/13
The United States has evidence that Iran has secretly been constructing large nuclear facilities -- sites that could possibly be used to make nuclear weapons, senior U.S. officials tell CNN.
Iraq Arms Report Has Big Omissions, U.S. Officials Say 12/13
American intelligence agencies have reached a preliminary conclusion that Iraq's 12,000-page declaration of its weapons programs fails to account for chemical and biological agents missing when inspectors left Iraq four years ago, American officials and United Nations diplomats said today.
U.S. Sees Showdown Over Iraqi Scientists 12/13
The Bush administration believes any failure by Iraqi President Saddam Hussein to produce scientists that United Nations inspectors want to interview outside the country would constitute "noncooperation" by Baghdad with last month's U.N. resolution, a senior administration official said yesterday.
U.S. Won't Endorse Germany to Chair Sanctions Committee 12/13
The Bush administration, still angry over German Chancellor Gerhard Schroeder's anti-war stance on Iraq, has blocked Germany's quest to assume the chairmanship of a key Security Council sanctions committee that oversees billions of dollars in Iraqi trade, according to U.S. and U.N. diplomats.
Al-Qaida Suicide Teams Train in Pakistan 12/13
Suicide squads are being trained in Pakistan by al-Qaida operatives to hit targets in Afghanistan and the bombers' families are being promised $50,000, say Afghan and Pakistani sources.
U.S. forces in Afghanistan shell enemy positions after coming under rocket fire 12/13
U.S. forces shelled suspected enemy positions with mortars Wednesday after coming under rocket fire before dawn at a base near the border with Pakistan, the U.S. military said.
Report Cites Al Qaeda Deal For Iraqi Gas 12/12
The Bush administration has received a credible report that Islamic extremists affiliated with al Qaeda took possession of a chemical weapon in Iraq last month or late in October, according to two officials with firsthand knowledge of the report and its source. They said government analysts suspect that the transaction involved the nerve agent VX and that a courier managed to smuggle it overland through Turkey.
The delivery of Baghdad's declaration on banned weapons represents a critical moment of truth for a US president who has apparently become more hesitant over the use of force as the prospect of war has drawn closer.
How a show of force in the war on terror turned into an explosive farce 12/12
What began as a feat of derring-do on the high seas in America's war on terror ended yesterday in a diplomatic dilemma, one that underlines just how complicated, contradictory and perhaps even self-defeating that war will be.
Why the PWP is a good investment
Bush is keeping Kim Jong Il in his sights 12/12
... one thing is clear: Mr Bush will not rest on any laurels he may collect in Baghdad. Pyongyang is his next target.
Unlikely base will train a new regime 12/12
UP TO 2,500 Iraqi opposition members are expected in Hungary within the next few weeks, after Donald Rumsfeld, the US Defence Secretary, asked yesterday for the use of an American airbase in southern Hungary to set up a framework for a post-Saddam regime in Iraq.
U.S. defends deal to take possession of Iraq weapons report 12/12
Negroponte told the BBC if any excised material is used to make a case against Iraq, all council members would have to be made aware "in some fashion or another" of what it contains.
Next Door to Iraq, the Present Danger Is Anti-Americanism 12/12
With the U.S. military occupying more than a quarter of Kuwait, the government is taking urgent stock of the extent of anti-Americanism and fundamentalist fervor within the ranks of its own police and military.
Cheerleading Chickenhawk Commander-in-Chief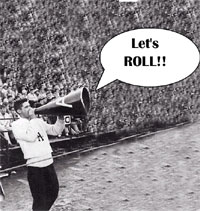 U.S. Takeover of Declaration Angers Iraq 12/11
Around midnight Sunday, the council's lone copy left the building in U.S. hands, supposedly because only the U.S. government could photocopy thousands of pages in secure surroundings. The transfer, which occurred before any other governments could examine the Iraqi reports, had the approval of the council's current president, Ambassador Alfonso Valdivieso of Colombia.
U.S. set to use mines in Iraq 12/11
The Pentagon is preparing to use anti-personnel land mines in a war with Iraq, despite U.S. policy that calls for the military to stop using the mines everywhere in the world except Korea by 2003.
The Truth About Rummy
Complaint: He doesn't listen to the generals 12/11
But Rumsfeld's popularity and rock star fame belie a sometimes troubled relationship with the armed forces and fears that his take-no-prisoners style is alienating some of America's closest allies. Though Rumsfeld has disputed news reports that he is often at odds with top generals, his strained relationship with the military and many Defense Department civilians is widely known at the Pentagon.

Says one senior officer who asked to remain anonymous: "I think the public would be shocked to learn that the secretary is nothing like the person they see on TV. They think of him as glib and witty. He's just not that way."
Bush Administration to Unveil Anti-Proliferation Strategy 12/11
The Bush administration Wednesday will unveil a new, tougher strategy designed to deter terrorists and other enemies from acquiring nuclear, chemical or biological weapons and using them against the United States and its allies.

The anti-proliferation strategy codifies a national security evolution that began with last year's Sept. 11 attacks, and repeats the administration's threat to use preemptive and overwhelming force-up to and including nuclear weapons-against what it perceives as imminent danger of an attack.
Warlords are Afghanistan's new worry number one 12/11
One problem is that many of the warlords were instrumental in helping the U.S. overcome the Taliban last year. The United States was happy to attack from the safety of 30,000 feet, but the ground assault was mainly won by Afghan forces.
This Could Get Juicy
Iraq's Documents List Suppliers of Dangerous Arms 12/10
Iraq's mammoth document of its past weapons programs includes the names of foreign suppliers, disclosures that may be embarrassing for nations on the U.N. Security Council and others.
US and UK admit lack of 'killer' proof 12/10
The US and Britain lack "killer" intelligence that will prove conclusively that Iraq has weapons of mass destruction, according to sources in London and New York.

"If we had intelligence that there is a piece of weaponry at this map reference, we would tell the inspectors and they would be there like a shot," a source said.
Allies Reassured On Iraqi Document 12/10
As U.S. experts began to copy and comb through Iraq's 12,000-page declaration of its weapons of mass destruction program, the Bush administration moved yesterday to assure skittish allies that it does not intend to use the document as a trigger to begin military operations against Iraq, U.S. and foreign officials said.
With forces at ready, war could be swift 12/10
The hammer of US military force is almost ready for use against Iraq, even as the diplomatic struggle between Washington and Baghdad continues.

There are now some 80,000 uniformed American personnel in the region, counting troops deployed in Afghanistan. While an actual attack would likely require a final sprint deployment of strike units, most of the elements for war are now in place, as symbolized by this week's command-and-control exercise in Qatar.
Iraq invasion unlikely to rely on insurgents 12/10
Any attempt to use Iraqi opposition fighters in combat roles against Saddam Hussein would be undercut by their shortage of weaponry and skill, crippled by their history of fighting among themselves and compromised by their sensitive relations with neighbors Turkey and Iran.
Rumsfeld Considers US Military in Africa 12/10
Defense Secretary Donald H. Rumsfeld on Monday left open the possibility of expanding the new U.S. military presence in the Horn of Africa, where hundreds of American troops are based as part of a land, sea and air campaign to root out al-Qaida terrorists.
US arms Algeria for fight against Islamic terror 12/10
The Bush administration will sell weapons to the military-backed government of Algeria to help combat Islamic militants, administration officials said today. The militants have engaged in a violent uprising since an Islamic political party was banned in the early 1990's.
U.S. Plans to Plug Afghans' Porous Border 12/10
To slow the flow of illicit drugs, terrorists and contraband into and out of Afghanistan, the United States is planning to finance the construction and maintenance of 177 checkpoints staffed by a 12,000-strong border police unit, officials said Sunday.
Fear of casualties hampers hunt for Taliban 12/10
U.S. commanders have turned down as too risky plans for special operations missions to attack Taliban and al Qaeda fighters in Afghanistan, according to soldiers and Bush administration officials.
One year on, many Pakistanis rue Taliban's fall 12/10
A year after the demise of the Taliban in Afghanistan, many Muslims in neighbouring Pakistan are expressing sympathy for the hardline Islamists ousted at the start of the US-led war on terror.
Lack of Hard Evidence Complicates U.S. Aims 12/9
During his recent trip to Europe to drum up support from the allies, Deputy Defense Secretary Paul D. Wolfowitz was asked by NATO ambassadors what it would take to prove that Iraq has failed to give up its weapons of mass destruction. His reply illustrated the subjective nature of the evidence against Iraqi President Saddam Hussein, which depends on the eye of the beholder.

"It's like the judge said about pornography," Wolfowitz told the closed-door audience, according to a participant. "I can't define it, but I will know it when I see it."
Economist tallies swelling cost of Israel to US 12/9
For the first time in many years, Mr. Stauffer (the economist) has tallied the total cost to the US of its backing of Israel in its drawn-out, violent dispute with the Palestinians. So far, he figures, the bill adds up to more than twice the cost of the Vietnam War.

And now Israel wants more. In a meeting at the White House late last month, Israeli officials made a pitch for $4 billion in additional military aid to defray the rising costs of dealing with the intifada and suicide bombings. They also asked for more than $8 billion in loan guarantees to help the country's recession-bound economy.
Selling The Iraq War To The U.S. 12/9
(CBS's Bob Simon) reminds viewers that a horrible story spread widely by the first Bush administration prior to the Gulf War about Kuwaiti babies pulled from incubators by invading Iraqis turned out not to be true. The current Bush administration may be also misinforming the public in its efforts to justify a possible second war with Saddam Hussein.
Next moves for US on Iraq weapons list 12/9
Barring a smoking gun, US likely faces a long process in trying to prove pattern of deceit.
Dry run for war on Saddam launched in desert 12/9
It bears the innocuous name of "Internal Look". But the American military's elaborate command-and-control exercise, which begins at a base in the Qatari desert today, looks very like a dry run for a war against Iraq which many believe is inevitable.
Former troops worry about Gulf War syndrome, what weapons Saddam might use 12/9
... as the country prepares for another war in the same "sandbox," some veterans have doubts about the wisdom of such an undertaking. "I don't see how we can send troops into that region if we say we still don't know the reason for Gulf War illness," said Mike Woods, 33, who is 100 percent disabled with neurological problems.
A Tough Case: How to Convict Hussein 12/9
The administration was asked why President Bush has not orchestrated a similar display of evidence (as the Cuban Missile Crisis) that would cut through 12,000 pages of Iraqi declarations, and back up Washington's assertion that Saddam Hussein never gave up his weapons of mass destruction.
US forces ready to strike Iraq 'in weeks' 12/9
American forces will be ready for war in the Gulf by next month, much earlier than many had predicted, Pentagon officials said yesterday.
G.I.'s Walk Perilous Line Between Finding Enemy and Alienating Afghans 12/9
Four months after the United States adopted a new strategy of using more ground troops to hunt for remnants of Al Qaeda and the Taliban, it is unclear if the strategy is working, Afghan officials say.
Seoul restaurants bar US diners
Bush fails to win over sceptical Europeans 12/5
The transatlantic divide over a war with Iraq is wider than ever, despite US attempts to rally world support for a potential military campaign, according to a survey of global attitudes published yesterday.
Anti-US anger grows among Arab moderates 12/5
The killing of an American in Lebanon is just one recent sign of a pattern of anti-US attacks in moderate Arab states.
Iraq condemns inspectors as 'spies' 12/5
Baghdad has launched a scathing attack on the United Nations weapons inspectors currently searching sites in Iraq, accusing them of espionage and provocation.
Britain and US step up bombing in Iraq 12/5
The total amount of bombs dropped by British and American aircraft on targets in southern Iraq has increased dramatically over the past few months, in a clear indication that the no-fly zone is being used to destroy the country's air defence systems in anticipation of an all-out attack.
Pentagon Is Set to Activate Thousands More Reservists 12/5
The Pentagon is preparing for a major call-up of National Guard and Reserve troops, a move that would fill military jobs that would be critical if the United States goes to war against Iraq, Defense Department officials said today.
U.S. Forces Engage in War Games in Kuwait 12/5
Massive training exercises using live fire in Kuwait are designed to send a message to Iraq, just 10 miles away.
Inspecting Iraq: No trouble yet 12/5
UN inspectors find nothing new at an old chemical weapons plant and a nuclear facility.
Inspectors find only mushrooms amid ruins of bombed reactor 12/5
Twisted pieces of metal rise from the rubble, rainwater lies in craters gouged into the earth, a scorched chimney leans into a jagged wall – reminders of how Saddam Hussein's nuclear ambitions were destroyed.
A Rhetorical Weave on Iraq 12/5
Asked this week whether the Bush administration's goal in Iraq is getting rid of weapons of mass destruction, getting rid of Saddam Hussein, or both, Defense Secretary Donald H. Rumsfeld replied: "Beauty is in the eye of the beholder. It depends on who you talk to and when you talk to them."

Rumsfeld's seeming non-answer amounted to a fair statement of Iraq policy during a week when senior administration officials from the president on down appeared to have widely divergent views about the status of nascent weapons inspections in Iraq and what will happen if, as expected, Baghdad insists in a declaration it is due to file with the United Nations by Sunday that it has no chemical, biological or nuclear arms, or long-range missile systems.
A U.S. Beachhead On Horn of Africa 12/5
Just an hour's ride in a fast boat from Yemen, Osama bin Laden's ancestral homeland, the United States is building an extensive military task force in Djibouti to combat al Qaeda, highlighting Africa's crucial role in the war on terrorism.
'Clashes' in northern Iraq 12/5
Fierce fighting has erupted in northern Iraq between the Patriotic Union of Kurdistan (PUK) and Muslim militants believed to be linked to al-Qaeda, it is reported.
U.S. troops in Afghanistan shot at 12/4
U.S. forces in Afghanistan called in close air support twice on Monday after being threatened or fired at in the east and southeast of the country, a U.S. military statement said on Tuesday.
Turkey Won't Commit to Allowing Access 12/4
Turkey's foreign minister said Tuesday that his country would allow the United States to use military bases in the country for a strike against Iraq, but his ministry later said that his comments were not a firm commitment by Turkey.
Monitors inspect Saddam's palace poetry 12/4
UNITED NATIONS weapons inspectors staged their first search of one of Saddam Hussein's eight presidential compounds yesterday — and found nothing but gilt-edged opulence, manicured lawns and poetry.
Saddam to defy Bush ultimatum 12/4
Saddam Hussein began a new round of brinkmanship yesterday when his lieutenants said they would tell the United Nations on Saturday that Iraq has no weapons of mass destruction.
U.N. Chief Challenges Bush's Iraq Assessment 12/4
U.N. Secretary General Kofi Annan today challenged the Bush administration's downbeat assessment of weapons inspections underway in Iraq, saying that Iraqi "cooperation seems to be good" following the inspectors' first week of work.
US jockeys to keep trigger for war at hand 12/4
With four days to go before a key Iraqi deadline to account for any weapons programs, the Bush administration is ramping up its rhetoric against President Saddam Hussein.
U.S. Tries to Delay U.N. Iraq Aid, to Ban 40 Items 12/4
The United States, to the frustration of many Security Council nations, proposed today to delay for two weeks the renewal of an aid program for Iraq in order to add about 40 items to a list of imports prohibited under the program.
U.S. forces say they're 'ready to roll' to Iraq
Clashes Resume in West Afghanistan After B-52 Raid 12/3
Fierce clashes between rival commanders close to a key air base in western Afghanistan resumed Monday, the leader of one faction said, a day after a U.S. B-52 bombed one of the sides.
Firing of officials becomes test of Karzai's power 12/3
In a few cases, the officials accused of corruption or incompetence have refused to step down, or they left after their deputies were promoted, raising questions about whether the ousted officials might still be in charge.
'Taleban' purists gain new hold on Pakistan borders 12/3
TALEBAN-STYLE puritanism is rapidly moving across northwestern Pakistan, with bans on music in private cars and buses and arrest for those who fail to stop at prayer times.
Why the Pentagon will watch where you shop 12/3
This effort - whose Latin motto translates as "knowledge is power" - aims to create huge databases that sift through the purchases, travel, immigration status, income, and other data of hundreds of millions of Americans. Its purpose: to sniff out the terrorists among us.
Suggesting, and praying
Bush Suggests Iraq Will Fail 12/3
President Bush disparaged Iraq's efforts to comply with new U.N. disarmament demands as "not encouraging," suggesting Monday that Saddam Hussein will fail to meet terms for a key report due this weekend -- which would move the United States closer to war.
Britain accused of providing Saddam torture instruments 12/3
The Government's attempt to present Iraq as a uniquely evil regime turned into a public relations flop yesterday when the Iraqi dissident chosen to present it denounced the threat of war with Saddam Hussein and said Baghdad officials used British-made equipment as instruments of torture.
Taking the Iraq Policy for a Circular Spin 12/3
"We're going around in circles," White House press secretary Ari Fleischer said as Air Force One carried President Bush home from his recent trip to Europe.

The spokesman was not talking about air-traffic delays. Rather, he was trying to explain how the president's current hope that Saddam Hussein will peaceably disarm is consistent with his earlier view that the Iraqi leader should be ousted. And Fleischer faced strong headwinds.
Senator says U.S. planes threatened 12/2
Sen. Bob Graham, D-Fla., chairman of the Senate Intelligence Committee, warned Sunday of new terrorist attacks on U.S. targets and called on the Bush administration to take immediate steps to protect U.S. airliners from attacks by shoulder-fired missiles.
Antiwar Effort Gains Momentum 12/2
Diverse groups - from mothers to labor, churches to veterans - rally against war on Iraq.
U.S. troops call in B-52 bomber after being attacked 12/2
A mammoth B-52 bomber was called into combat for the first time in five months Sunday to protect U.S. special forces battling armed Afghans outside an American base.
U.S. Facing Bigger Bill For Iraq War 12/2
Informal estimates by congressional staff and Washington think tanks of the costs of an invasion of Iraq and a postwar occupation of the country have been in the range of $100 billion to $200 billion. If the fighting is protracted, and Iraqi President Saddam Hussein blows up his country's oil fields, most economists believe the indirect costs of the war could be much greater, reverberating through the U.S. economy for many years.
For Some Kuwaitis, Savior Now an Enemy 12/2
In Gulf nation liberated by the U.S. a decade ago, a disturbing rise in anti-Western extremism is confirmed by attacks on American soldiers.
US rehearsal for Iraq war will be staged in Qatar 12/2
Within ten days the Americans will begin a simulated "war game" in the region, the first of its kind outside the US, Pentagon officials said yesterday.
Foreign policy rift simmers in White House 12/2
A foreign policy rift simmering in the Bush administration shows no signs of mending and could affect Iraq policy as well as U.S. dealings in the Middle East and with North Korea and China.
Bin Laden tape 'not genuine' 12/2
Researchers in Switzerland have questioned the authenticity of the recent audio recording attributed to Osama Bin Laden.
Iraq inspections 'could last a year' 12/2
The world's top nuclear inspector said yesterday that it may take 12 months to discover whether Iraq has weapons of mass destruction - a view that is likely to irritate Washington hawks.
U.S. military training divides Saddam's opposition 12/2
Iraqi opposition groups are divided over plans to train Iraqis to aid a U.S. invasion force. The division highlights the problems U.S. officials are facing in organizing both resistance and a post-Saddam Hussein government.
In Peshawar Province: New leader wants US to get out 12/2
"The people do not look upon them with approval, and the mandate we won was a reaction to the American presence."